Security handles for exterior doors FSB 7382 W ALU
Aluminium security handles for exterior door with door knob
FSB 7382 W
Manufacturer -
FSB
(Germany)
solid steel sub-construction with high

intruder resistance

elegant FSB design backplate in various finishes
exterior backplate size: 246 x 54 mm, thickness: 15 mm
interior backplate size: 245 x 45 mm, thickness: 7 mm
cylinder protrusion: 8-16 mm
centre distance: 72 mm / 92 mm
spindle: 8 mm / 10 mm
fixed supporting lugs: Ø 12 mm
connecting concealed screws
standard door thickness: 40-45 mm / 65-69 mm / 75-79 mm / 88-92 mm

cylinder protrusion for backplates with cylinder guard

: 8-16 mm
standard set with

handle model FSB 1107 on the inside; may be combined with any other FSB handle model in matching finish (on request)

ES1 / WK2 security grade
corresponds with DIN 18257 requirements, security grade 2/4 according to DIN EN 1906 and DIN V ENV 1627-1630 requirements
handle FSB 1107 length: 136 mm
mounting template available for precise drilling for fastening through the door (rent or purchase)

material aluminium anodised

:
F1-natural aluminium tone
F2-new silver tone
S4-bronze tone, textured matt
S5-medium dark bronze tone
S7-dark bronze tone
S8-black
powder-coated in black (RAL9005), white (RAL9016), anthracite (RAL7016) or grey-brown (RAL8019) tone.
If you wish to order a colour that is not available in our online shop, please select the relevant item and quantity to order, indicate the colour in a comment and complete your order. We will send you the information regarding the estimated delivery time and price

.

---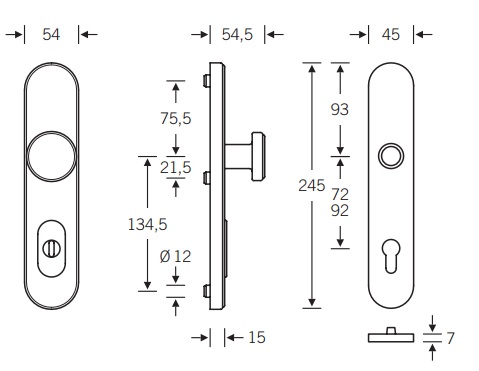 Products
Price
In Stock
Quantity
Security handle set handle/knob S2, PZ/92,15 mm, aluminium F1

Art. Nr.:

0 73 7382 05412 0105
| | |
| --- | --- |
| backplate/rose shape | round |
| backplate/rose size | 54 x 246 mm (ārējā uzlika); 45 x 245 mm (iekšējā uzlika) |
| bundling options | possible to order with any FSB handle model |
| cylinder guard | no |
| cylinder guard | changeable |
| centre distance PZ | 72 / 92 mm |
| centring lug diameter | 12 mm |
| compatibility standard | German (DIN) |
| construction | safety backplates |
| construction | lever handle / inactive door knob |
| distance from leaf surface to outer edge of handle | 54.5 |
| door direction | universal use for DIN right and left hand doors |
| door knob shape | round |
| door thickness | 40-45 mm / 65-69 mm / 75-79 mm / 88-92 mm |
| fastening type | connecting bolts, accessible from inside of door |
| fastening type | stable, connected, concealed screws |
| fastening type | stable, connected, concealed screws |
| fire safety | related fireproof model available |
| handle square spindle size | 8 / 10 mm |
| inner backplate thickness | 7 mm |
| leaf material | for wooden and metal doors |
| Manufacturer | FSB |
| material | aluminium anodised blasted |
| material: sub-construction | solid steel |
| outer backplate thickness | 15 mm |
| purpose | for exterior doors and doors with increased intruder resistance requirements |
| security class | ES1 |