Nerūsējošais tērauds. Materiāla īpašības un kopšanas ieteikumi.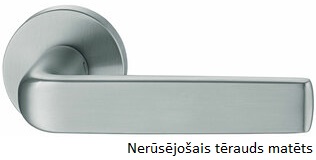 Nerūsējošais tērauds ir jēdziens, kas attiecināms uz vairāk kā 100 dažādiem pret rūsu izturīgiem tērauda veidiem, kas satur vismaz 10.5% hroma.
Pastāv uzskats, ka nerūsējošais tērauds ir nenolietojams materiāls. Nerūsējošā tērauda virsmai piemīt augsta pretkorozijas izturība, to nav iespējams mehāniski sabojāt, skrambas un skrāpējumu pēdas ir praktiski nemanāmas (izņemot nerūsējošo tēraudu pulētā apstrādē). Pat ilgstošā ikdienas pielietojumā nerūsējošais tērauds nenolietojas, nenobružājas un ir viegli kopjams. Saskarē ar gaisā vai ūdenī esošo skābekli uz tērauda virsmas veidojas neredzama hroma oksīda aizsargkārta, kas aizsargā pret koroziju un kam piemīt arī antibakteriāla iedarbība. Ja šī kārta tiek iznīcināta, tās vietā, pateicotes gaisa skābeklim, tūlīt veidojas jauna aizsargkārta.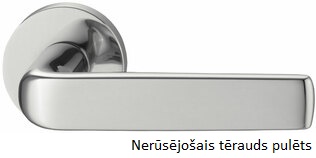 Augstāks hroma saturs, kā arī citi sakausējuma elementi, kā niķelis, molibdēns vai titāns, paaugstina materiāla pretkorozijas izturību vai uzlabo tā apstrādes īpašības.
Nerūsējošie tēraudi tiek vienmēr apzīmēti ar materiāla numuru saskaņā ar DIN EN 10088 un to ķīmisko elementu saīsinājumiem. Furnitūras (rokturu, margu, sanitārā aprīkojuma u.c.) ražošanā izplatītākie ir hroma-niķeļa tēraudi (A2), piem., 1.4301 vai 1.4541, vai arī attiecīgi hroma-niķeļa-molibdēna tēraudi (A4), piem., 1.4401 vai 1.4871, ar augstāku hlorīda izturību. Standarta sakausējums A2 (AISI 304) satur 18% hroma un 9-0% niķeļa. Šis sakausējums ir izturīgs pret koroziju sausā gaisā un saldūdens vidē, t.i. - standarta situācijās.
Agresīvā vidē, piem., piejūras reģionos, ķīmiskās industrijas rajonos, kā arī telpās ar paaugstinātu mitruma līmeni un ilgstoši nevēdinātās telpās (peldbaseinos, saunās, laboratorijās), ieteicams izmantot tērauda sakausējumu A4 (AISI 316) ar molibdēnu, kam piemīt augstāka pretkorozijas izturība arī sāli, hloru un skābes saturošās vidēs.
Nerūsējošā tērauda rokturi u.c. elementi ir ieteicami durvīs ar augstu noslogojuma intensitāti, it īpaši sabiedriskās ēkās, iestādēs, slimnīcās, skolās, sporta kompleksos un tml. vietās, kur paredzama liela cilvēku plūsma, daļēji nevērīga attieksme un nepieciešams nodrošināt viegli kopjamu un izturīgu aprīkojumu.
Iemesli, kuru dēļ uz nerūsējošā tērauda var veidoties rūsa:
Nerūsējošā tērauda rokturi vai citi elementi tiek izmantoti vidē ar ievērojami agresīvākām īpašībām, kā paredzēts konkrētās klases materiālam, piem.: piesārņots gaiss, sāls šķīdumi vai hloru saturošu tīrīšanas līdzekļu atliekas.
Virsmas apstrādē izmantota slīpēšanas metode, kas ļauj apkārtējā vidē esošajām kodīgajām vielām un rūsas daļiņām piekļūt materiālam.
Materiāla virsmu ir sabojājušas metāla skaidas vai cita veida metāla daļiņas, kas atdalījušās no montāžā izmantotajiem darbarīkiem.
Nerūsējošā tērauda rokturu vai citu detaļu montāžā izmantoti no parastā tērauda izgatavoti stiprinājumu elementi vai nerūsējošais tērauds slapjos vai mitros apstākļos nonāk saskarē ar blakus esošiem no parastā oglekļa izgatavotiem komponentiem. Pirmajos 2 gadījumos korozijas risku var ievērojami samazināt, izmantojot tērauda sakausējumu ar molibdēnu AISI 316. Pēdējos 2 gadījumos nerūsējošā tērauda virsmu neatgriezeniski sabojā rūsa, kas radusies parastajā oglekļa tēraudā un caur saskari nonākusi uz nerūsējošā tērauda virsmas.

Ikdienas kopšana

Normālos, labvēlīgos apstākļos nerūsējošā tērauda rokturiem u.c. elementiem nav nepieciešama speciāla kopšana. Putekļu un traipu tīrīšanai iekštelpās ieteicams izmantot mitru, mīkstu drāniņu un noslaucīt nerūsējošā tērauda virsmas regulāri, pirms uz tām sakrājusies lielāka putekļu kārta.
Gadījumos, kad uz nerūsējošā tērauda elementiem, piem., peldbaseinu vai saunu rokturiem, sāk veidoties rūsas punkti, tie ir notīrāmi, stipri paberžot un izmantojot parastos tīrīšanas līdzekļus.
Tīrīšanai nedrīkst izmantot abrazīvus tīrīšanas līdzekļus un asos sūkļus!
Šajos gadījumos runa ir par rūsu, kas neveidojas pašā materiālā, bet gan apkārtējās vides gaisā. Noteiktos apstākļos gaiss satur nelielas rūsas daļiņas, kas nosēžas uz tērauda virsmām.
Āra apstākļos nerūsējošais tērauds ir pakļauts dažādiem koroziju veicinošiem faktoriem, piemēram:
- piekrastes gaiss,
- rūpnieciskie izgarojumi,
- no ielām uzšļakstītais, sāli saturošais sniegs/ūdens,
- automašīnu izplūdes gāzes un gaisa piesārņojums.
Vidē ar samērā zemu nelabvēlīgo faktoru klātbūtni nerūsējošā tērauda virsmām nepieciešama regulārā tīrīšana ik pa 6 līdz 12 mēnešiem. Intensīvāk apdraudošā vidē iesakām veikt regulāro tīrīšanu ik pa 3 līdz 6 mēnešiem.
Materiāla sargāšana un kopšana būvdarbu laikā.

Kaļķa un javas traipus var notīrīt ar atšķaidītu fosforskābi, pēc tam bagātīgi noskalojot ar tīru ūdeni. Tīrīšanā izmantojot demineralizētu ūdeni, iespējams papildus samazināt kaļķa nosēdumu veidošanās risku uz nerūsējošā tērauda virsmām.
Nekādā gadījumā tīrīšanai nedrīkst izmantot flīzēm domāto cementa traipu tīrītāju vai atšķaidītās sālsskābes. Ja šie līdzekļi ir nejauši nokļuvuši uz nerūsējošā tērauda virsmām, tie nekavējoties kārtīgi jānoskalo ar tīru ūdeni.
Remonta darbu veicēji, piemēram, flīzētāji bieži vien neapzinās, kādus bojājumus uz nerūsējošā tērauda virsmām var radīt kaļķa atliekas un atšķaidītās sālsskābes. Šī iemesla dēļ iesakām rūpēties par pareizi organizētu remonta/montāžas darbu secību, lai nerūsējošā tērauda detaļas tiktu uzstādītas tikai pēc flīzēšanas darbu pabeigšanas.
Transportēšanas, uzglabāšanas un montāžas laikā nerūsējošā tērauda virsmas bieži vien tiek efektīvi sargātas ar plastmasas folijām. Taču daži aizsargfoliju veidi diemžēl nav ilgstoši izturīgi pret gaismu un UV-starojumu, tāpēc vēlāk tos ir grūti noņemt. Uz virsmām var palikt grūti notīrāmi līmes traipi. Tāpēc iesakām noņemt aizsargfolijas, tiklīdz būvdarbu vietā tās vairs nav nepieciešamas virsmu aizsardzībai.
Dzelzs daļiņas, kas palikušas no darbarīkiem, sastatnēm un transportēšnas tehnikas, jānotīra nekavējoties. Slīpēšanas un metināšanas putekļi un skaidas, kas radušies no tērauda apstrādes netālu no nerūsējošā tērauda elementiem, nosēžoties uz nerūsējošā tērauda virsmas, rūsē īpaši intensīvi. Tie var iziet cauri nerūsējošā tērauda aizsargkārtai un izraisīt punktveida koroziju uz nerūsējošā tērauda detaļām.