Durvju furnitūras kopšanas norādījumi.
1. Slēdzeņu un furnitūras virsmas ir regulāri jākopj atbilstoši to materiālam un apstrādei. Metāla virsmām (nerūsējošais tērauds, cinkojums utt.) izmantot tikai atšķaidītus, maigus, ph-neitrālus tīrīšanas līdzekļus. Nekādā gadījumā neizmantot agresīvus, skābes saturošus tīrīšanas līdzekļus, jo to iedarbības rezultātā tiek pazemināta virsmu korozijas aizsardzība. Lakotas virsmas tīrīt tikai ar šķīdinātājus nesaturošiem tīrīšanas līdzekļiem un mīkstu, nepūkojošu drāniņu.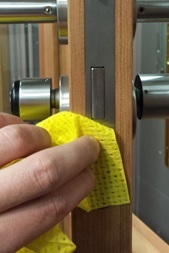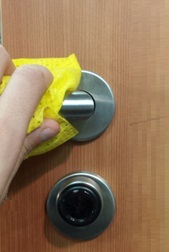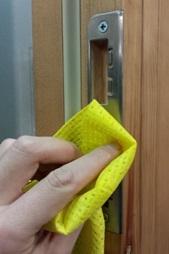 2. Slēdzenes mēlītei ir jābūt tīrai un durvīm jāaizverās brīvi, nenospiežot rokturi. Veicot durvju apsekošanu jāpārbauda slēdzeņu mēlīšu stāvoklis. Apsekošanas biežums atkarīgs no apstākļiem objektā – normālos apstākļos pietiek ar 1 reizi gadā, bet nepieciešamības gadījumā apgrūtinātos apstākļos tas jādara biežāk. Ja durvis ir montētas būvdarbu gaitā, pēc būvdarbu veikšanas visas slēdzeņu mēlītes obligāti jānotīra.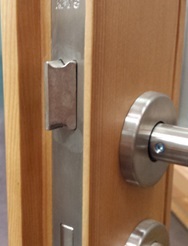 3. Slēdzot durvis ciet ar profilcilindra atslēgu vai tualetes aizgriezni, slēgšanai jānotiek bez lielas piepūles un pretestības. Ja, veicot durvju apsekošanu, tiek konstatēts, ka durvis slēdzas ciet ar pretestību, jāregulē durvju pretplāksne, vērtnes konstrukcija vai cilindra uzlika.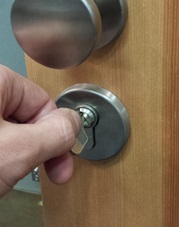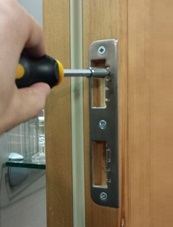 4. Durvju roktura konstrukcijai ir stingri jāpieguļ pie durvīm un savienojumu konstrukcijām. Veicot durvju apsekošanu, jāpārbauda, vai roktura savstarpējie stiprinājumi nav atspriegojušies. Ja rokturis ir kļuvis vaļīgs un tajā ir lielāka brīvkustība kā pārējos rokturos, ir jāpārbauda, vai savstarpēji savelkošās skrūves nav atlaidušās un skrūve, kas fiksē rokturi pie ass, nav atbrīvojusies. Vaļīgās skrūves pievilkt!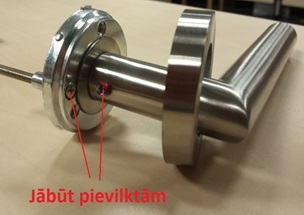 5. Durvju aizvērējam durvis jāaizver pilnībā, tomēr bez liela trieciena. Veicot durvju apkopi, jāpārbauda, vai aizvērējs pilnībā aizver durvis un vai durvju aizvēršanās spēks nav pārmērīgi liels, veicot nepieciešamos aizvērēja regulējumus.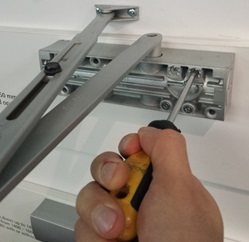 6. Durvju automātiskajiem sliekšņiem ir pilnībā jānoblīvē durvju sprauga zem vērtnes, neatstājot spraugu, taču slieksnis nedrīkst ar spēku spiesties pret grīdu – blīvējumam viegli jāpiespiežas un jāpieguļ grīdas līmenim. Veicot durvju apsekošanu, jāpārbauda, vai durvis nav nosēdušās un kā strādā slieksnis. Ja slieksnis nedarbojas atbilstoši norādītajam, ir jāveic durvju vai sliekšņa noregulēšana.

7. Fiksētās vērtnes fiksatora (baskviļa) pārslēdzējam jādarbojas bez lielas pretestības. Ja pārslēdzēju var pārslēgt tikai ar lielu spēku, durvis ir jāregulē.