Automatic multi-point lock KFV AS-3500
Automatic multipoint lock KFV AS-3500
Manufacturer -
KFV
motor lock, PZ
automatic security with 2 automatic locking hooks, which lock from the bottom upwards
can be fitted with A-Öffner motorised unlocking system, daytime unlocking mechanism and door stopper
comes equipped with integrated soft-lock latches as standard
in an open position the hook bolts are sunk into the auxiliary lock case, flush with the face plate edge to form a smooth surface design
automated activation of locking hooks
automatic magnetic trigger compensates for any air-gap tolerance
hooks lock in the upwards position ensuring that the lock function is correct even in doors that tend to warp, as well as increasing the security level of the door and impeding warping
high-quality stainless steel face plate
universal use for both right and left hand opening directions, by switching the main lock latch
large range of mounting tolerance
uniform routing templates for sashes and frames – can be used with Q-adjustment strike plates
modular structure reduces warehouse and logistic costs
burglary resistance up to security grade RC3
can be equipped to operate with various access control systems

complies with VDS highest security grade C requirements

locking hooks are activated with patented magnets as soon as the door closes, regardless of distance from rebate
rebate distance is adjusted automatically with magnets; each AS-3500 requires 2 magnets (must be purchased separately) compatible with Q-adjustment module
locking hook projection: 20 mm
leaf height: 1600 - 2400 mm
large range of mounting tolerance (distance between face plate and strike plate 2-6 mm) and options for height adjustment (+2/-4 mm)
strike plate adjustment range: 5 mm
compatible with:
daytime unlocking mechanism (temporary deactivation of automatic locking)
door stopper T3/T4
motorised unlocking system A-Öffner (electromechanic access control systems with biometric reader KFV Fingerprint or Bluetooth access control system KFV Keyless)

available finishes: stainless steel (face plate)
---
Unlocking the lock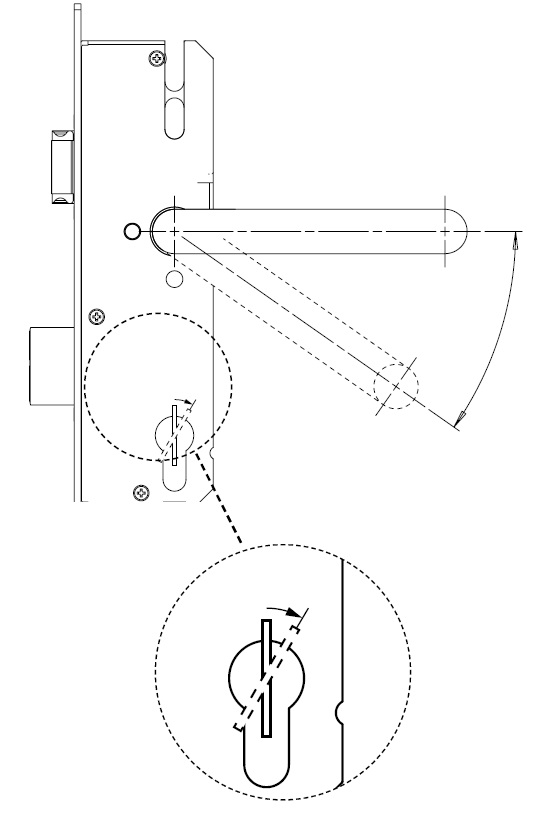 From the outside with a locking cylinder:
Turn the key in the locking direction until it makes contact, and hold in this position, until the door opens to approximately 50 mm

.
From the inside with a handle:
Press the handle down until it makes contact (approx. 30˚), and hold in this position, until the door opens to approximately 50 mm

.
The correct unlocking of a door ensures that the locking hooks sit inside the lock auxiliary cases until it is opened again.


---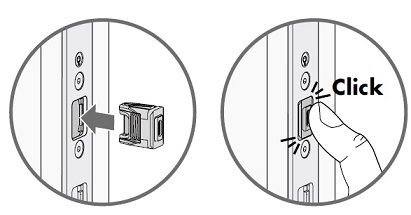 When transporting doors with an installed AS 3500 lock it is possible that the automatic locking hooks may activate and cause damage to the lock
.
To avoid any damage, it is recommended that:
the magnets are installed only after the door is installed on site or
special transportation covers are used
(may be ordered separately).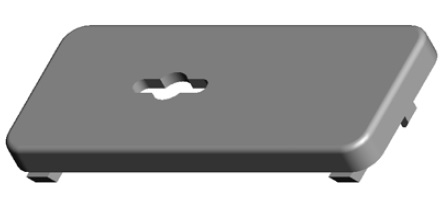 Magnets are inserted in any KFV strike plate with adjustment module Q.


Milling
Cutter type

A
Total length (mm)
B


Distance from handle centre to lower part centre

(mm)
C


Distance from handle centre to upper part centre

(mm)
F


Distance from handle centre to motor centre

(mm)
G


Distance from handle centre to bottom

(mm)
H
Distance from handle centre to auxiliary case centre (mm)
I


Max face plate shortening from top

(mm)
K


Max face plate shortening from bottom

(mm)

Leaf rebate (mm)

B001
2170
760
730
380
1020
355
290
130
1881 - 2170
B003
2400
760
980
380
1020
355
270
130
2171 - 2400
B298
2170
760
605
380
1020
355
415
130
1755 - 1880
B296*
2170
760
355
380
1020
-
665
255
1505 - 1754
| | |
| --- | --- |
| * | = not available with fitting holes for fastening door stopper or daytime unlocking mechanism |
| Sizes K + I | = can be shortened |
Set
Electronic unlocking solutions and accessories
- Motorised unlocking system KFV A-Öffner
- Electric strike plate 118E130
- Latch release KFV 115B
Strike plates
-
joint strike plates
Joint strike plate for multi-point locks KFV BD25-2-230EG/230ERQH
Keep bolt for double doors KFV BS60-230-230ERQH
-
for main locks
Angled security strike plate for main locks KFV 15-530E
Screw-on strike plate for main locks KFV 20-608ERH/31
-
for auxiliary cases
Angled security strike plate for multi-point lock auxiliary cases KFV 3615-530Q
Screw-on strike plate for multi-point lock auxiliary cases KFV 3620-608Q/31Q
---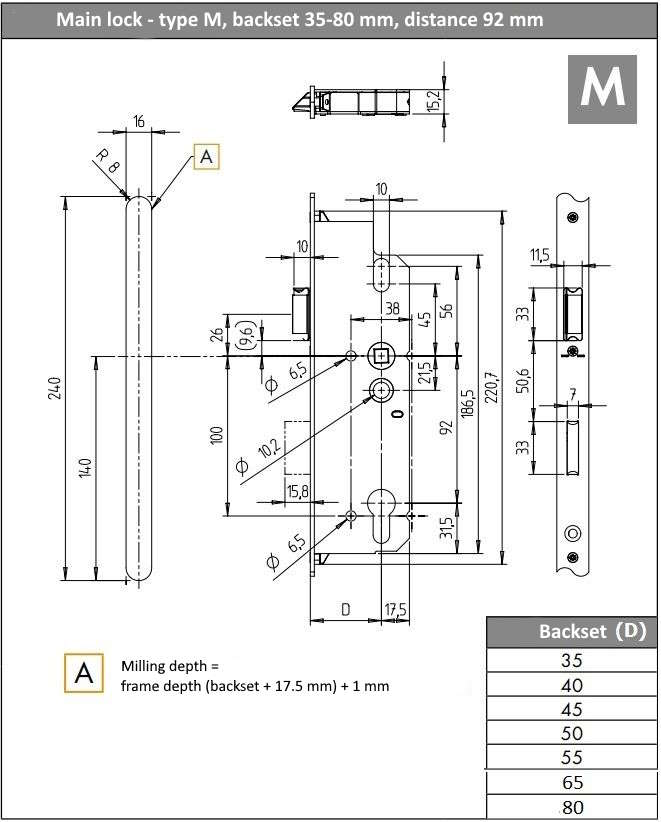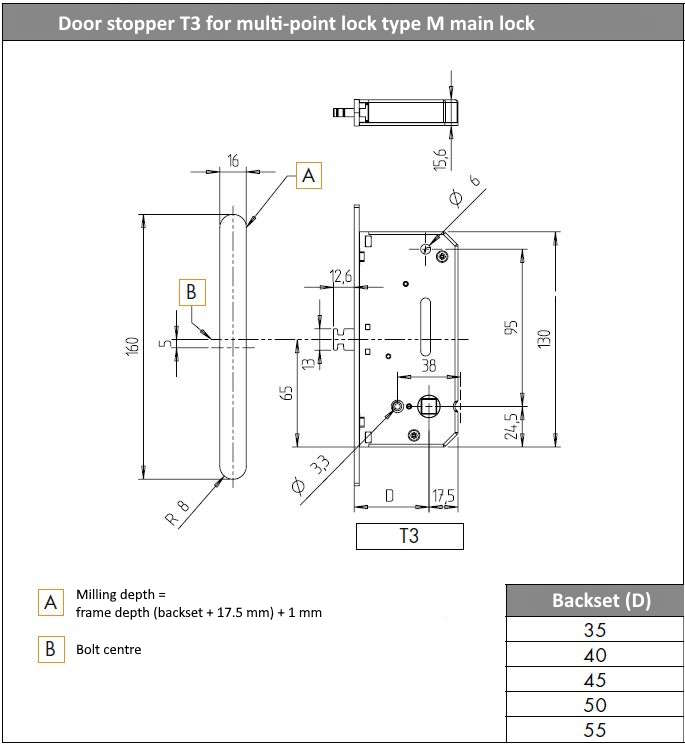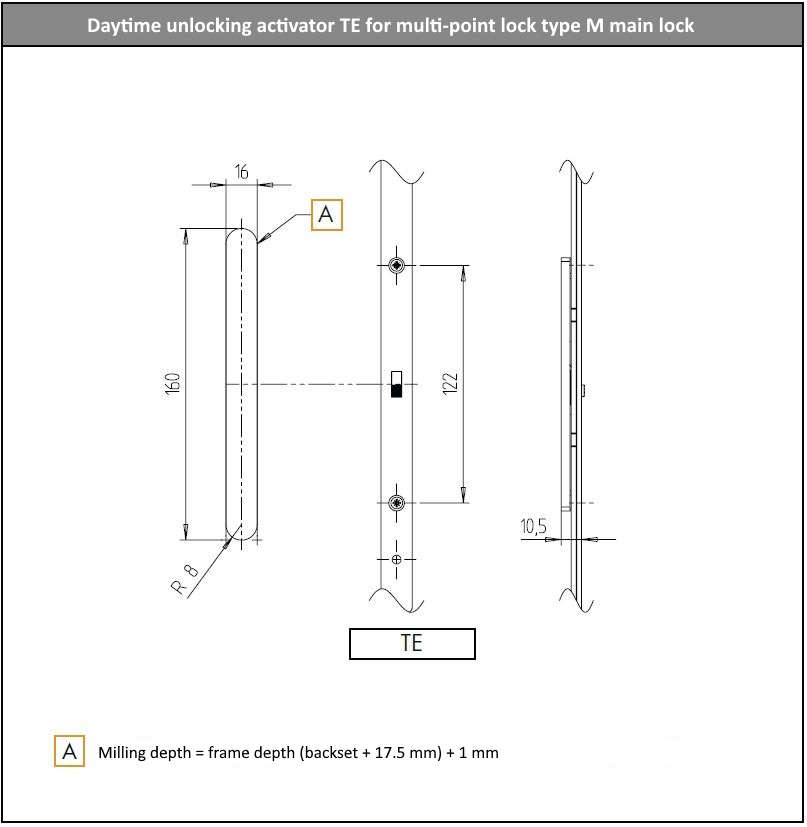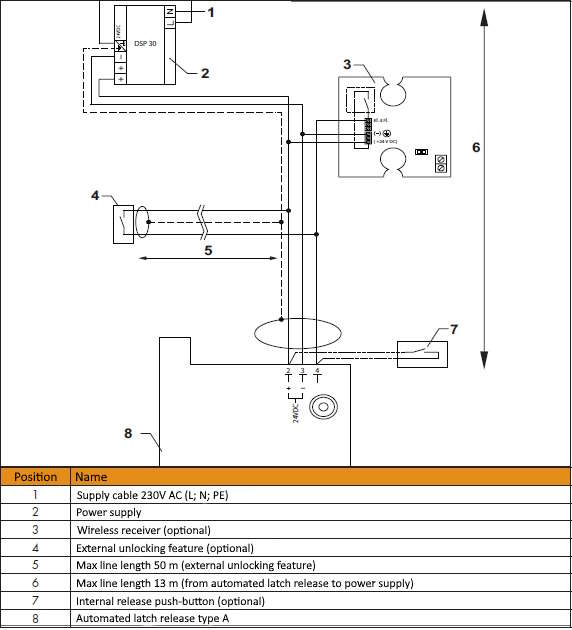 ---
---
Products
Price
In Stock
Quantity
Multi-point lock AS-3500-F PZ 45/92-20-8, B001, st.steel

Multi-point lock AS-3500-F PZ,45/92-20-8, B003, st.steel

Multi-point lock AS-3500-F PZ 45/92-20S-8, B298, st.steel

Multi-point lock AS3500-F PZ 55/92-20-8, B001, st.steel

Multi-point lock AS-3500-F PZ 55/92-20-8, B003, st.steel

Multi-point lock AS3500-F PZ 55/92-20-8 , B298, st.steel

Multi-point lock AS-3500-F SOFT, 65/92-20S-8, B001, st.steel

Price:

From

Special Price

€109.46

was

€121.62

This price applies only to items in stock. For larger quantities price is calculated upon request.

Multi-point lock AS-3500-F PZ 65/92-20-8, B003, st.steel

Multi-point lock AS3500-F PZ 65/92-20S-8, B298, st.steel

Multi-point lock AS-3500-F PZ, 80/92-20S-10, B001, stainless steel
Additional products
Products
Price
In Stock
Quantity
AS-3500 magnet for locking hooks

AS3500 daytime unlocking mechanism

AS-3500/3600 electromechanical drive A-Öffner 2.2
| | |
| --- | --- |
| centre distance PZ | 92 mm |
| class as per EN 12209 (DIN 18251) | class 3 according to DIN 18251-3 / class 6 according to EN 12400 |
| compatibility standard | German (DIN) |
| door direction | universal use for DIN right and left hand doors |
| face plate finish | nerūsējošaist tērauds |
| face plate length | 2170-2400 mm |
| face plate shape | square |
| fire safety | not suitable for fire safety doors |
| handle square spindle size | 8 mm |
| hook bolt projection | 20 mm |
| installation type | mortise |
| latch type | hooks |
| leaf material | for wooden, metal and framed doors |
| load capacity | high |
| lock case | galvanised closed |
| lock cutter type | B001 / B003 / B298 |
| lock operation | motorised |
| lock operation type | with key / handle |
| lock type | multi-point lock for hinged doors |
| locking elements | polished nickel-coated |
| locking function | PZ - with profile cylinder hole |
| Manufacturer | KFV |
| number of locking points | 3 |
| possible spindle depth | 35 - 80 mm |
| purpose | for exterior doors |