Lift off butt hinge RDBB807 89/89
Lift off butt hinge RDBB807 89/89
Manufacturer -
BSW
(Germany)
suitable for doors with high usage and recommended for public buildings
with fixed knuckle and

ball-bearing rust-proof pin

lift off butt hinge with rounded corners
with stainless steel washer
please indicate door swing direction upon order
complies with EN 1935 requirements, CE certificate approved
max load: up to 100 kg (2 hinges per leaf)
size: 89x89 mm
knuckle: 16 mm
material thickness:3 mm
screws: 4,5 x 40 mm
stainless steel hinges 89x89 classification code according to DIN EN 1935: 4 7 5 1 1 4 0 12
material:
stainless steel, blasted, galvanised with aluminium coating F1 (GVF1)
steel, bronze-plated satin (BZG)
steel, chrome-plated polished (CMP)
steel, galvanised (GV)
stainless steel, matt (STD)
steel, brass-plated satin (WD)
white (WE)
steel, brass-plated polished (WF)
steel, nickel-plated (NF)
---
Installation
All maximum load data indicated in the Technical Data refer to the use of two hinges on a door set of 2000 x 1000 x 40mm. To calculate the adjusted leaf weight that represents its actual load and determines the choice of hinges, please bear in mind the following additions

:

use of door closer: +37%
automatic operator: +50%
door stop (>60% of door width): +50%
extra wide door per cm (up to 120cm total width): +1,5%

In order to choose appropriate hinges for wider doors and in case of other inquiries please contact our specialists.
Using a third hinge generally does not increase the maximum load, as it often is placed in the middle between the top and the bottom hinge to prevent the door leaf from warping or to create a symmetrical look. We recommend installing a third hinge 350 mm below the top hinge for extra wide doors or if using a door closer or automatic operator, to support the top hinge.
To achieve the maximum load it is preconditional that:
the hinges are fixed in line precisely and professionally;
the screws used for installation are those recommended by the manufacturer;
the frame is stable and firmly fixed to the wall.
---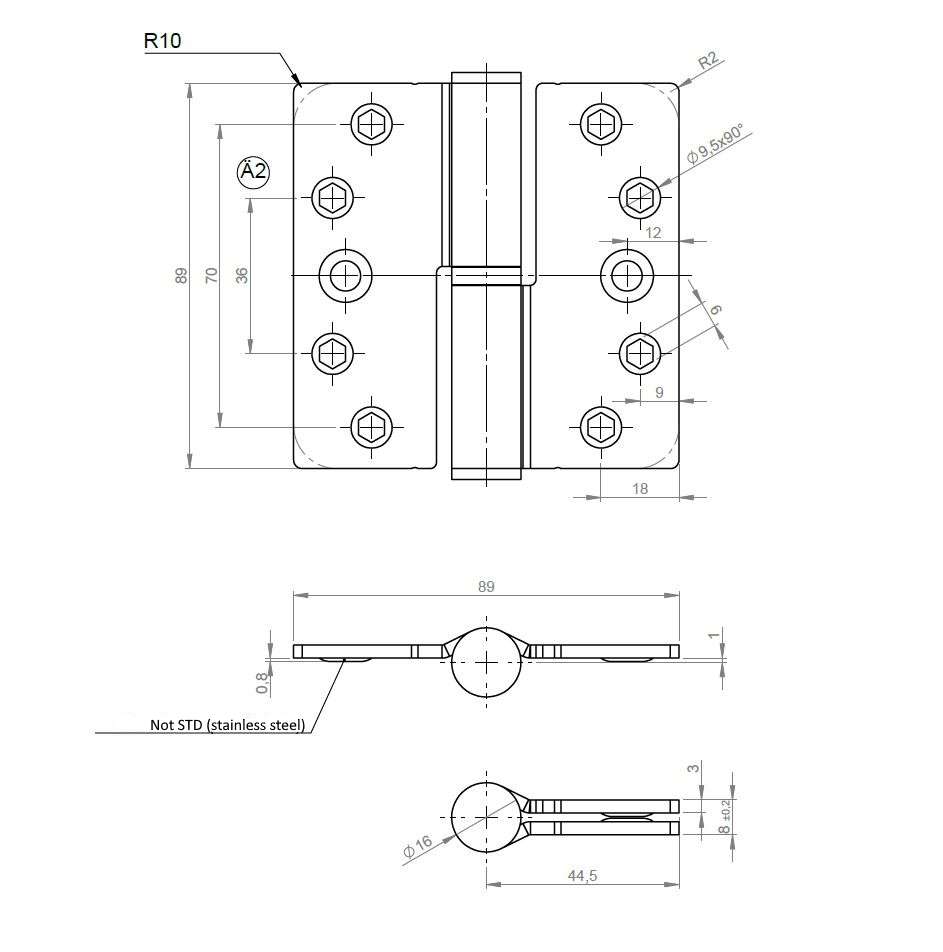 ---
Products
Price
In Stock
Quantity
RDBB807 butt hinge, 89x89x3mm, 100kg, round corners, bronze-plated steel, left, BSW

Art. Nr.:

15 807010890891330/N

RDBB807 butt hinge, 89x89x3mm, 100kg, round corners, bronze-plated steel, right. BSW

Art. Nr.:

15 807000890891330/N

Butt hinge RDBB807 89x89 mm, galvanised F1, LEFT

Art. Nr.:

15 807010890891020/N

Butt hinge RDBB807 89x89 mm, galvanised F1, RIGHT

Art. Nr.:

15 807000890891020/N

RDBB807 butt hinge, 89x89x3mm, 100kg, round corners, steel, black coloured, left, BSW

Art. Nr.:

15 807010890891120/N

Butt hinge RDBB807 89x89 mm, black matt, RIGHT

Art. Nr.:

15 807000890891120/N

Butt hinge RDBB807 89x89 mm, brass-plated matt, LEFT

Art. Nr.:

15 807010890891210/N

Butt hinge RDBB807 89x89 mm, brass-plated matt, RIGHT

Art. Nr.:

15 807000890891210/N

Butt hinge RDBB807 89x89 mm, brass-plated polished, LEFT

Art. Nr.:

15 807010890891220/N

Butt hinge RDBB807 89x89 mm, brass-plated, RIGHT

Art. Nr.:

15 807000890891220/N

Butt hinge RDBB807 89x89 mm, stainless steel, LEFT

Art. Nr.:

15 807010890891620/N

Butt hinge RDBB807 89x89 mm, stainless steel, RIGHT

Art. Nr.:

15 807000890891620/N
| | |
| --- | --- |
| width | 89 mm |
| adjustment | not adjustable |
| anti-corrosion resistance | certified according to EN 1935 - depending on finish |
| anti-corrosion resistance in accordance with EN 1935 | class 5 - ultra high |
| anti-intruder protection | no |
| base assortment | Yes |
| class as per EN 1935 | class 4 |
| corner radius | R10 |
| door construction | for non-rebated doors |
| door direction | when ordering please indicate door swing direction |
| fastening elements | must be ordered separately |
| fire safety | suitable for fire and smoke safety doors |
| groove for leaf seal | no |
| height | 89 mm |
| hinge shape | rounded |
| hinge type | standard hinge |
| installation template | available for sale or rent |
| knuckle diameter | 16 mm |
| leaf maximum weight | 100 kg |
| leaf material | wood |
| load capacity | middle |
| maintenance | not required (self-lubricating bearings) |
| Manufacturer | BSW |
| material | steel / stainless steel |
| material thickness | 3 mm |
| sound insulation | no |
| suitable for aluminium frames | suitable |
| suitable for industrial frames | suitable |
| suitable for steel frames | suitable |
| suitable for timber frames | suitable |
Durvju vērtņu virzieni saskaņā ar DIN 107
Vērtnes virzienu nosaka tajā durvju pusē, kur aizvērtā stāvoklī ir redzamas eņģes: redzamas eņģes vērtnes labajā pusē = DIN labā vērtne redzamas eņģes vērtnes kreisajā pusē = DIN kreisā vērtne