Mortise lock for heavy-duty doors SSF ES19
PRODUKTU VAIRS NERAŽO!
Pieejams tikai noliktavā esošais daudzums.
Mortise lock for heavy-duty door SSF ES19
Manufacturer –
SSF
grade 3 lock for heavy-duty doors
closed galvanised lock case
steel handle spindle hole with polyamide

bearing shells

suitable for interior door with high usage
corresponds with EN 12 209 requirements
locking types: with cylinders and WC knobs
galvanised steel latch and bolt with thermally bonded polyamide conduits for noise reduction in the lock and at the latch
spindle square hole diameter: 8 mm
spindle depthD: 55 mm, 60 mm, 65 mm
centre distance for PZ lock: 72 mm, for WC lock: 78 mm

key-operated latch with a double key turn for PZ lock

s

tandard face plate - rounded

face plate width: 18 mm, 20 mm, 24 mm
face plate finish: steel varnished in silver tone / coloured black
when ordering, please indicate door swing direction
fireproof lock version available on request

classification code according to EN 12209

: Si 19 PZ 3 M 5 0 0 G 3 H C 2 0
available finishes:
---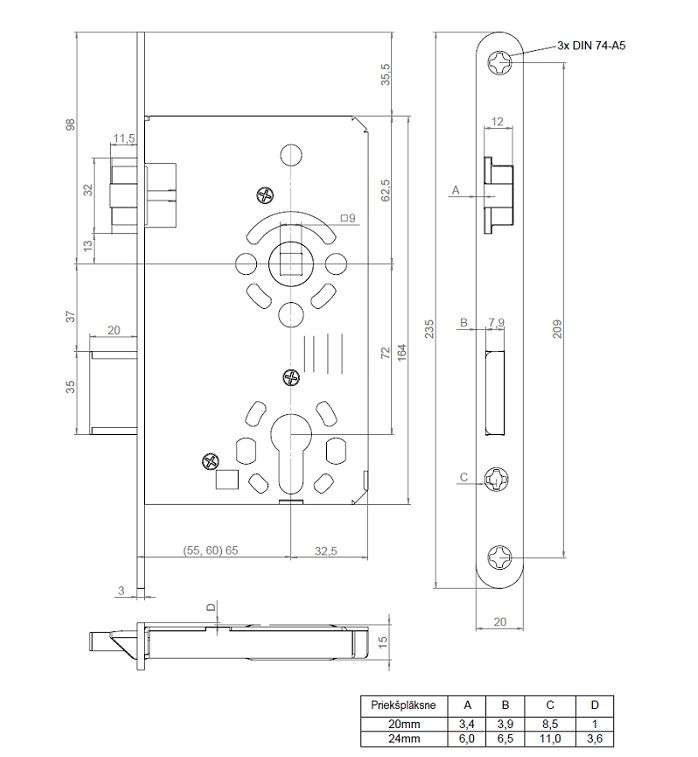 ---
Products
Price
In Stock
Quantity
ES19 mortise lock PZ 55/72-20, black, RIGHT

Art. Nr.:

27 Si19 PZ LA B 20

NAV PASŪTĀMS! Pieejams tikai noliktavā esošais daudzums.

The selected product is currently out of stock.
| | |
| --- | --- |
| bolt projection | 20 mm |
| centre distance WC | 78 mm |
| centre distance PZ | 72 mm |
| class as per EN 12209 (DIN 18251) | class 3 according to EN 122209 / DIN 18251 |
| compatibility standard | German (DIN) |
| door direction | when ordering please indicate door swing direction |
| face plate width | 18 / 20 / 24 mm |
| face plate finish | tērauds lakots sudraba krāsā vai krāsots melns |
| face plate length | 235 mm |
| face plate shape | rounded |
| fire safety | option for fire safety doors available on request |
| handle square spindle size | 8 mm |
| installation type | mortise |
| latch | key-retractable (PZ) |
| latch material | galvanized steel |
| leaf material | for wooden and metal doors |
| load capacity | high |
| lock bolt | double utrn (PZ) |
| lock bolt material | galvanised steel |
| lock case | galvanised closed |
| lock operation | mechanical |
| lock type | single-point lock for hinged doors |
| locking function | PZ / WC |
| Manufacturer | SSF |
| purpose | for interior doors / for exterior doors |
| sound insulation | latch and bolt with sound insulation |